This comes after the UK Supreme Court refused a submission to reopen his case on June 14. Julian Assange has spent 560 days under house arrest without charge. His extradition to Sweden is set between June 28 and July 7.
Mr Assange will
remain
at the embassy under the protection of the Ecuadorian government while they process his request.
In his statement to the Diplomatic Mission of Ecuador, Julian Assange
commented
on his abandonment by his home country, Australia, as well as the threat of the death penalty in the U.S.
Ecuador has been
offering
political asylum to Julian Assange since November 2010. At that time, Vice Chancellor Kintto Lucas stated, "We are open to grant him Ecuadorian residency, without any kind of problem or any kind of conditions."
Ecuadorian President Rafael Correa was a
guest
on Julian Assange's talk show "The World Tomorrow" this past May. The full interview is available online in English, Spanish, Italian, Russian, and Arabic.
Updates will be added as they become available.
[UPDATE: 21:25 BST]
Julian Assange's U.S. based lawyer Michael Ratner commented on the request via
Twitter
:
Julian's asylum not about questioning in Sweden. Facing life in solitary in US with no comm.for exposing war crimes, What Would You Do???
Sweden easier. Smaller. lawyers in UK remarkable. More public support. He would be in jail in Sweden, US lodges warrant and he never is out
[UPDATE: 21:29 BST]
Clark Stoeckley
of the WikiLeaks Truck and Venezuelan author
Eva Golinger
will be on
RT
to discuss Julian Assange and his request for political asylum.
[UPDATE: 21:33 BST]
Jesselyn Radack
of the Government Accountability Project and
Barrett Brown
will also be on RT to discuss Mr Assange's request for political asylum.
Media currently outside Ecuadorian embassy waiting for Julian Assange (image via RT London).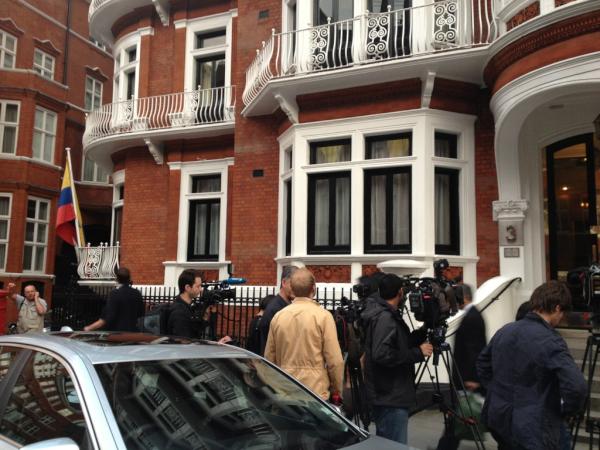 [UPDATE: 23:10 BST]
Glenn Greenwald has written an
article
covering Julian Assange's decision to seek political asylum in Ecuador. Kevin Gosztola has also
covered
it.
Mr Assange's mother, Christine, has come out in
support
of his decision to seek asylum, saying it shows clear thinking, but also comments she had no prior notice.
SwedenvsAssange
tweeted
the following in support of his decision:
You can only request political asylum if you are free to walk into an Embassy. In Sweden Assange would not be able to exercise his right.
RT America has also reported on the news. Watch their coverage below:

[UPDATE: 00:30 BST]
WikiLeaks has
published
an effective "declaration of abandonment" from the Australian Government, which refuses to protect Julian Assange or make any requests on his behalf.
This article is reproduced under a
Creative Commons Attribution-NonCommercial-NoDerivs 3.0 Unported License
. Original source is
WL Central
.
If you enjoyed this post, get
free updates by email or RSS.